Rebellious will soon be listed on UPcoin!
We are proud to announce that we are partnering up with UPcoin.com. UPcoin is a fast, safe and convenient crypto exchange, supporting both cryptos and fiat currencies. Trading starts in March 2018.
The Rebellious UPcoin promotion:
1: Sign up through the following link: http://upcoin.com/?ID=853fdc36
For the sake of transparency, some of you may have noticed that the above link is a referral link. You are absolutely correct. While we are more than happy for people to start trading REBL on UPcoin independently, we hope that asking people to sign up through this referral link will help recover part of the listing fee in the long run.
2: From the people who sign up through our UPcoin link, we will select 10 winners who will receive a prize of 1000 REBL.
Their mission
UPcoin is aiming to be the world's #1 exchange and become the fastest, safest and most convenient platform for traders from all over the world.
Background Research
Before starting development, UPcoin conducted a series of closed interviews with 400 traders of varying skills in order to find out the needs and problems typically experienced at other exchanges. Results showed that 90% of traders were experiencing similar issues on other platforms, which was confirmed during their focus group testing.
UPcoin's core focus has been to address these issues, ensuring their platform remains free of these common gripes while offering their users a fast, safe and convenient environment to trade in.
With over 750K+ registered users, the demand for an exchange that listens to its traders is obvious.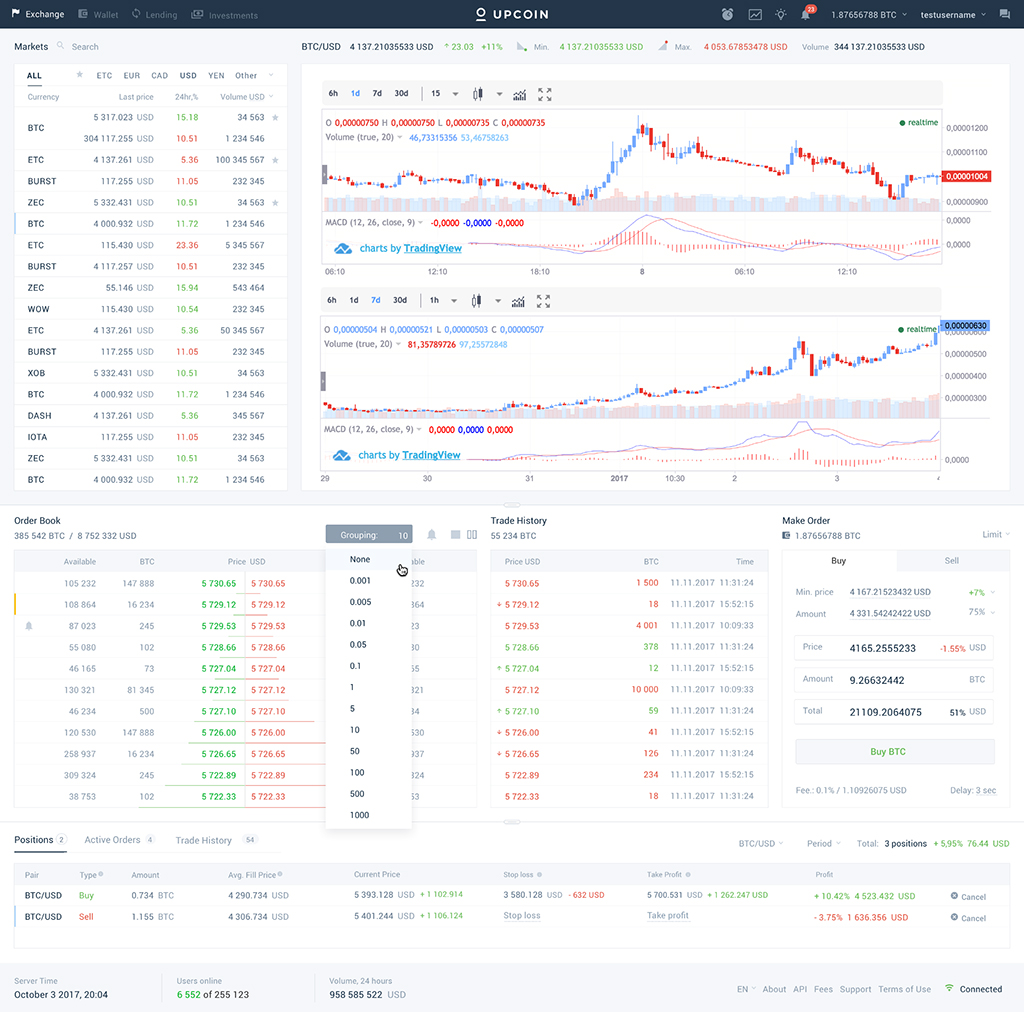 What makes UPcoin different from other exchanges:
1. Speed
UPcoin's technical setup is structured in a way that minimizes wait times and ensures high performance across the globe. They have servers located across the world, in all geographic regions, ensuring no matter the country being served, performance is always top.
Load testing experiments have shown that UPcoin is capable of processing 5 million transactions per second, guaranteeing fast service. It is a number ten times greater than any other exchange currently online.
2) Safety
UPcoin has had independent, third-party audits carried out on its security to ensure its platform is safe. The security of their exchange is of paramount importance and is continually being improved to meet the latest risks.
UPcoin will be working with hackerone.com, paying white hat hackers to test our security systems in a bid to continually improve security.
In addition to this, 97% of trader funds are kept in cold storage, ensuring a solid last line of defense.
3) Convenience & Usability
One of the biggest gripes for beginner traders is that many exchanges are overwhelming and difficult to understand. To address this, UPcoin has utilised a professional team of UX designers to assess the factors traders dislike about the common exchange experience and improve it.
4) Choice of Currencies
UPcoin aims to list the top 100 currencies upon its launch, with the aim of having 1000 available soon after. It is done with the trader in mind, offering convenience, flexibility, and the option for every trader to get involved with their favorite currency.
5) Variety of order types
UPcoin offers traders a diverse selection of order types to facilitate all types of trading. This includes limit order, market order, trailing stop, stop order, stop limit, immediate or cancel.
It is a diversity many traders have called for — especially a trailing stop order. Users spoke, they listened.
So get involved with Rebellious on the UPcoin platform. We are really excited and hope all of our Rebels are as well! See you there