Store and stake your
ERC20 tokens

How to use the rebellious wallet
The best way to store REBL tokens is to use the Rebellious Wallet, allowing you to stake your tokens and automatically start earning interest. You'll also be able to clearly see the interest your tokens are earning and collect it whenever you're ready. REBL can only be staked in the Rebellious Wallet. If you store it in another wallet, you will not be able to stake your coins. You can find the code for our wallet on Github..
Setting up your rebellious address and wallet
The first step is to download the Rebellious Wallet. Once downloaded, you will have the option to create a new wallet or open a currently owned one using a keystone or private key. If you create a new wallet, you will be redirected to MyEtherWallet.com in order to create a free wallet address. Once this is created, you can use the keystone or private key generated to open it using the Rebellious Wallet client. If you already own an ether wallet, you can use our Rebellious Wallet client to open it. Once again, please note, the Rebellious Wallet client must be used in order to stake your tokens and earn interest.
Ledger Nano S support
of our ERC20 token
Ledger Nano S
The Ledger Nano S is a hardware wallet that can be used a whole variety of cryptocurrencies, including Bitcoin, Ether, LiteCoin, ZCash, and many more. It is an extremely secure wallet that ensures that your key is only ever displayed on the ledger's screen, and hence visible only to you.
A Ledger Wallet is a small plug-in device that basically functions as an offline digital vault for tokens and coins. It is a convenient and versatile device that is encrypted for security and can also be used to both send and receive tokens/coins.
Simply connect it to your PC or mobile device via USB, transfer your tokens, and you're done.
Ledger support
The  Rebellious ERC20 Wallet  features complete support for the Ledger Nano S Hardware wallet. This essentially means that staking and storing your REBL ERC20 tokens using our wallet can now be more secure than ever before.
A new function in the wallet allows for claiming your interest with zero fees. There is no gas needed for the interest claim as this is automated in the wallet API.
It's as simple as that! Once you have your Rebellious Wallet open you will be able to see the amount you currently hold, as well as the details on your staked tokens/claimable interest.
Trezor Hardware Wallet
supporting our ERC20 token
TREZOR
A purpose-built device, Trezor allows users to store their unique key, a digital signature for making secure transactions. Support for Trezor is extended to major cryptocurrencies including Bitcoin, Litecoin, Ethereum, and now Rebellious. When performing transactions, users need a personalised key. This acts as a digital signature to verify the integrity of each transaction. Keeping this private key secure is of the utmost importance—that is where Trezor comes in.
TREZOR
By acting as the modern equivalent of a stamping machine, Trezor mimics the act of stamping a transaction you approve of, thus agreeing to transfer your chosen cryptocurrency. Trezor is an offline solution, meaning it cannot be accessed by hackers, even when connected to your PC. Significantly more secure than using an online wallet service, Trezor can even be connected to comprised computers without fear.
This standalone device is connected to your computer via USB port. As an added security measure, before your key can be accessed via Trezor, it requires an input of a unique PIN number. Even if the device is lost or stolen, your wallet will remain safe.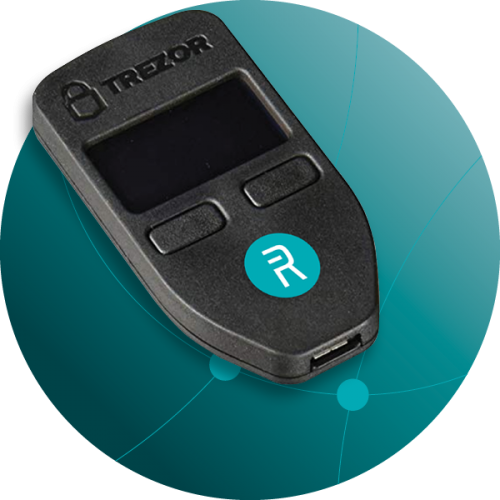 Simple yet secure
Using Trezor for the first time, users will be presented with the option to create a "recovery seed", acting as a backup should your Trezor device become lost or stolen. Using mnemonic code (a series of 12, 24, or 36 words), users can recover their private keys, token balances, and transaction history, transferring them onto a new Trezor device.
Compatible with Windows, OS X, Linux, and Android (via USB Host Mode), Trezor offers ease of use for the majority of users. When accessing Trezor, after successful PIN entry, you will be presented with the token amount requested and target address via a backlit display. The buttons located on Trezor confirm details. Trezor will sign the transaction internally before sending back to the computer you are using, without the private key being sent. This feature prevents hackers from accessing your details, even on a vulnerable machine.
Ethereum transactions
Gas and how it affects Rebellious
Whenever cryptocurrency is moved on the Ethereum blockchain – whether it is Ethereum or a token – it incurs an internal cost known as "gas". You can think of it as fuel for moving tokens and coins from one location to another – hence the name. As with all tokens running on top of the Ethereum blockchain, Rebellious incurs a gas cost when sending from one location to another..
Transaction fees
If you wish to send tokens from your wallet to another location, you will also need to pay the gas price. The amount of gas you wish to pay for a transaction can be manually set in the wallet you are using to send your tokens – the more you spend, the faster the network processes the transaction. This is paid with Ethereum. As such, the Rebellious wallet – as all wallets do – will require you to store a small amount of Ethereum in it in order to pay gas should you wish to transfer your tokens.
Fortunately, gas prices are very low, so only a small amount of Ethereum is needed to send tokens. You do not pay anything to receive tokens. It is the person sending that needs to pay. You can add Ethereum to your Rebellious wallet by sending it to your Rebellious address.
Security
When you create a wallet, you will be presented with both a keystone and private key. Please make sure you keep both secure, as in the wrong hands they grant someone else access to your wallet. If lost, you will be locked you out of your wallet. It is a good idea to store your private key in a printed format, stored somewhere you won't lose it or have it stolen. This is, of course, up to you.
Free claim
Claiming your stake is currently free, so you do not require to have Ethereum in your wallet. When we swap to our own blockchain in Q3 2018, this benefit will no longer be active. From then on, you would need to pay your gas with REBL-coins.
Other Ethereum wallets
Other wallets you can use
While the best way to store Rebellious is to use the Rebellious Wallet, Rebellious tokens can also be stored in the following other wallets..
Myetherwallet
MyEtherWallet is extremely versatile and supports a wide variety of ERC20 tokens. Plus, MyEtherWallet also allows you to add tokens manually should you be dealing with one that hasn't yet been added to the wallet.
Scam warning
MyEtherWallet has been the target of some phishing scams and some MEW clone sites have popped up online. Always make sure you're on the correct MEW site before entering your private keys.
Mobile REBL Wallets
Available Q2-2019